The Divisional Commissioner's Office Job Circular 2022 has been published online by the authority. We would like to inform you today about the details of the Divisional Commissioner's Office Recruitment Notice through the post on our website.
If you are thinking of doing government jobs then this post may be the right news for you. This job circular is definitely good news for job seekers in Bangladesh. We regularly publish govt and private company job Circulars on our website for Bangladeshi job seekers.
That's why I tell you that if you need any job news, you can search on our website. We always try to publish the all job news first than others. Anyway, let's go to the right point.
Also, you can view: DC Office New Job Circular
Divisional Commissioner's Office Job Circular 2022
This Job Circular has been published by the Authority for the recruitment of Bangladeshi job seekers. If you are an educated citizen of Bangladesh and you have the right qualifications as per their conditions then you can take this opportunity. Take a look at all the recruitment job post of this job circular in the official picture below.
According to appoint notice, Divisional Commissioner Office Khulna will add 11 People in the two different category job posts. All qualified people in Bangladesh can apply for this job. Quickly collect all the necessary documents and submit your application that you are qualified to do the job.
All job seekers have to submit their job applications before the job application the last date. If you are a government job applicant, you may not miss this opportunity. Maybe this job application last job application of your life if you get this job.
Also published: Prime Minister Office Job Circular
প্রতিদিন ফেসবুকে সরকারি-বেসরকারি চাকরির খবর পেতে আমাদের অফিসিয়াল ফেসবুক পেজে লাইক দিয়ে রাখুন। নিচের Like Page লেখাতে ক্লিক দিন।
Divisional Commissioner's Office Job Circular

Job employer
Divisional Commissioner's Office Khulna
Job employer type
Government
Job news source
Online
Publish date
17 June 2022
Job category
BD Govt Job
Total post
02
Total man
06
Gender
Both men and women
Educational qualification
Please view below
Other qualification
Please view in the below picture
Application process
Check in the image
Application start date
Application last date

17 July 2022

Official website
Divisional Commissioner's Office Job Circular 2022 Image
The job advertisement has been published on the official website. We downloaded this picture from there to upload it here. In this picture, you will see the details of the Divisional Commissioner's Office Job Circular which has been officially written. So take a look at the details below. And visit our website regularly to see all the regular job news in Bangladesh.
Dhaka Divisional Commissioner Office Job Circular 2022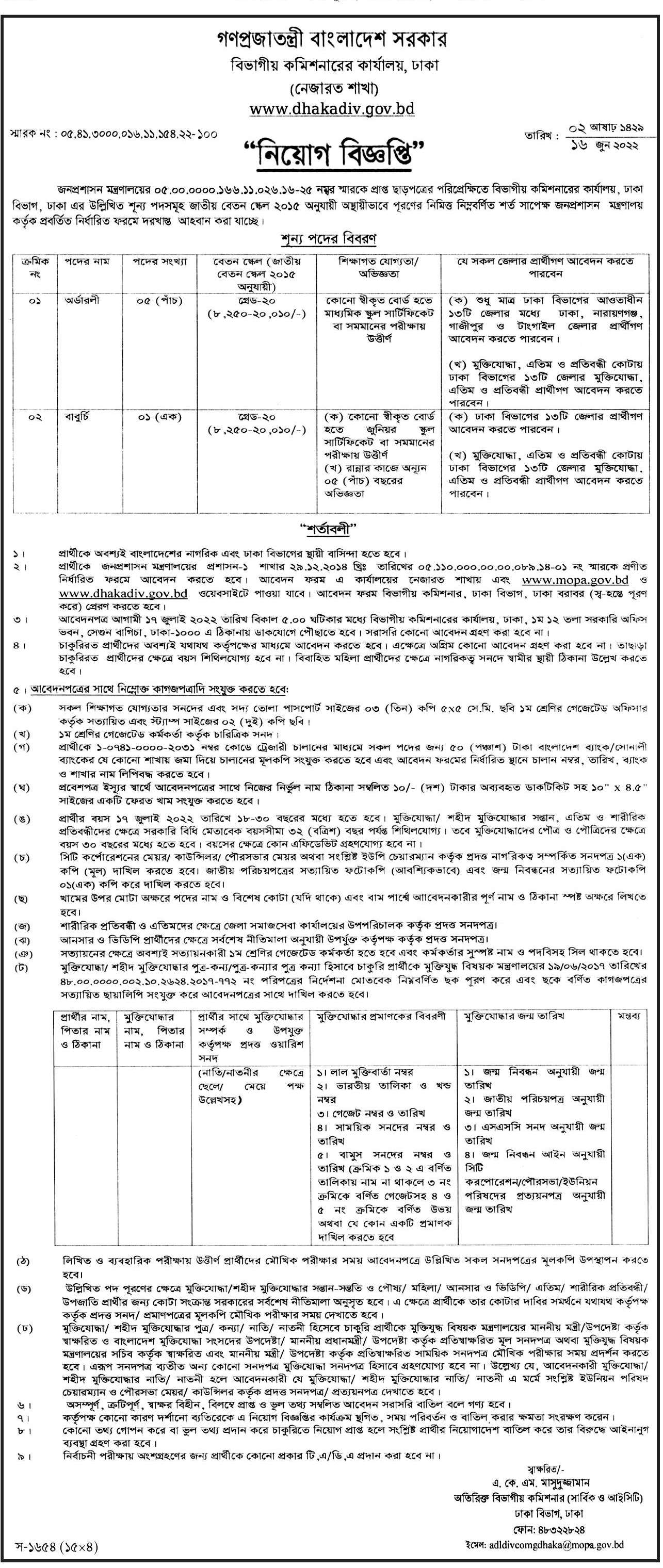 Source: Ittefaq, 17 June 2022.
Last Date: 17 July 2022.
Divisional Commissioner's Office Job Apply Process 2022
Application Form Recruitment Terms More details can be found on the  Khulna Divisional Commissioner website www.khulnadiv.gov.bd. So you need to visit the official website of the Khulna Divisional Commissioner to know the details of this job circular. So go to that website quickly and see the detailed information without delay. And of course, your application form and national identity card information should be the same. So send your job application form to the authority without delay.
Divisional Commissioner's Office Job Circular
This job Circular is an interesting Job Circular in June 2022. If you are a qualified candidate then apply quickly. You can see all the job news in Bangladesh on our websites such as Bangladesh all Govt Job Circular, School College Job, Private Company Job, and more. So remember the name of our website to visit very easily next time.
Thanks for reading Divisional Commissioner's Office Job Circular 2022 on our website.